We have been saying all along that SurfSideSafe is FREE today, and will always be. But did you know you can actually make money as a user on SurfSideSafe?
Affiliate marketing is the way to do it. Our Marketplace, and our Pages provide the ideal platform for you to do this.
In this post, I'm going to show you three things.
First, how to make money with our Marketplace
Second, how to make money by creating a page
And finally, how to get a lot of people to see what you've done, which means, more sales and more money
It's easy. It's fun. And the best part is, it won't cost you a cent.
And YES! We DO allow Affiliate Links!
---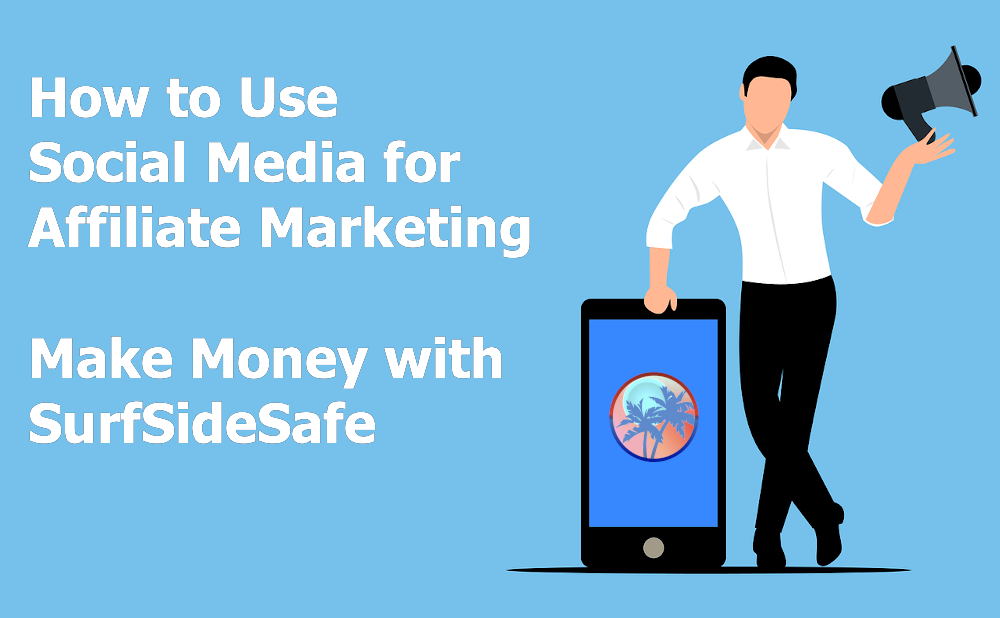 ---
First, I'm going to explain Affiliate Marketing in a way that I'm sure you will understand.
If you are already familiar with it, you can skip on down, and learn how to do it on SurfSideSafe.
Is Affiliate Marketing spam?
Absolutely not. In reality, Affiliate Programs can be a very effective way for brands to boost sales, and affiliate marketers to earn a commission.
That's why more than 80 percent of businesses do it.
They're doing people a great service by helping them find the products they are looking for.
For the record, according to Merriam-Webster, here is the definition of spam:
---
Spam is unsolicited usually commercial messages (such as emails, text messages, or Internet postings) sent to a large number of recipients or posted in a large number of places
.
---
What I'm about to show you has nothing to do with sending messages or posting content in more than one place.
What is Affiliate Marketing?
Affiliate marketing is very simple. This is exactly what it is:
---
You recommend a product that a merchant is selling from a website.

Each time someone buys that product based on your recommendation, you are paid a commission.
.
---
You never have to come into contact with anyone. This can be done from anywhere on the planet, without ever leaving your home.
You can even do this while relaxing on the beach, getting some sun.
How Affiliate Marketing Works
This is just as simple. You post a website link. The link contains a tracking code that is assigned to you. This is the Affiliate Link.
This link redirects to the page where the product is sold. The Company paying the commission knows it is you who recommended the product, by the tracking code.
Each time the product is sold, the merchant handles the payment and shipping. You don't have to do anything. Just keep posting more links for more products.
All you need is an internet connection on your smart phone, tablet or laptop, and you're good to go.
---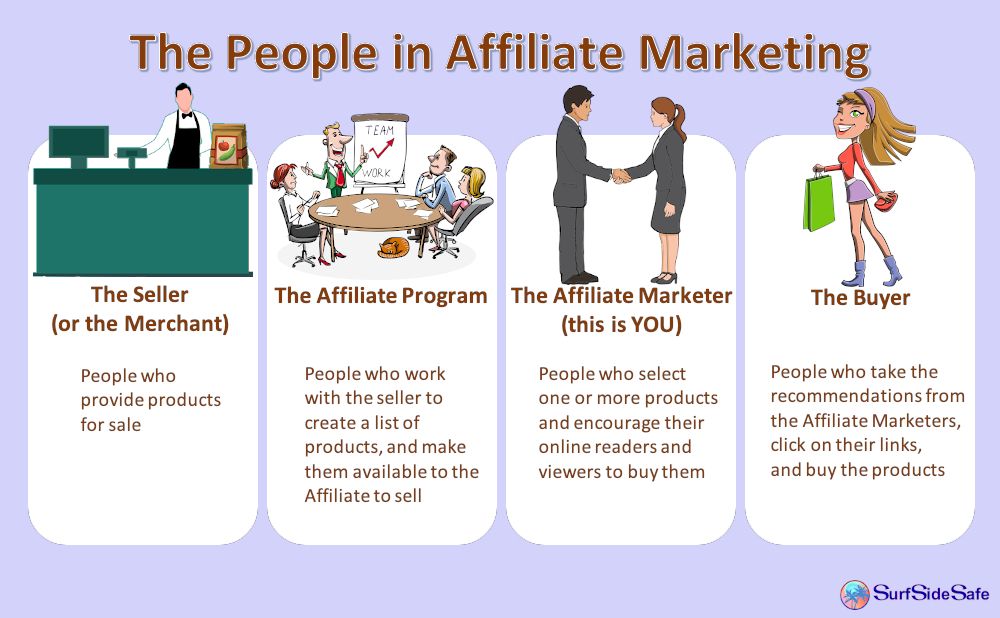 ---
Find a Good Affiliate Program
There are tons of Companies out there that are Affiliate Programs. All of these are free to join and use.
No one is going to charge you to promote their products. That's just plain common sense.
You will be doing them a big favor. They want you to make more money, because this means, more sales for them.
The two most famous Affiliate Programs are, Amazon and Rakuten.
AuthorityHacker is a website that teaches people how to build a profitable website.
They have compiled an excellent list of the 16 Best Affiliate Marketing Programs For Beginners To Make Money In 2023.
But there are a lot more besides the ones in their list. They are very easy to find. For now, AuthorityHacker will get you started and going for a long time.
How Affiliate Programs Work
An Affiliate Program like Amazon offers products you can promote that are exclusively their products.
On the other hand, programs like Rakuten represent several Companies with products you can promote.
After you sign up, you are given a tracking number. When you find a product you'd like to promote, you will be given the website link to use.
The tracking number captures the page views, clicks, and sales. When sales are made, the Affiliate Program automatically knows that you are due a commission.
The Company will give you choices between receiving your commission by check, or direct deposit.
Also, there is a threshold amount. This means that commissions will be held until they reach a certain amount.
Thresholds are carried forward to the next month, indefinitely. So, don't worry, you will not lose your commission.
If you do this right, you will be paid every month, with no commissions carried forward.
Companies will let you set the minimum amount of the threshold. Amazon's minimum amount is $10. Very seldom will you see the minimum amount more than $50.
This shouldn't matter. You want to make more than that anyway. Otherwise, what's the point?
Now you know everything you need to know about how Affiliate Marketing works. See how simple it is? Now, let's start using it on SurfSideSafe.
How to Do Affiliate Marketing on SurfSideSafe
There are two places where you can do it. The first is our Marketplace, and the second is a Page that you can create.
---
On Our Marketplace
---
The SurfSideSafe Marketplace is set up for users to post items two different ways.
The first way is, posting items that the user personally owns. In this case, an item location field will appear on the form.
When the item is sold, the buyer and seller make arrangements on how the item is to be distributed.
The second way is posting an item that is sold from a website, in which case, a link field appears on the form.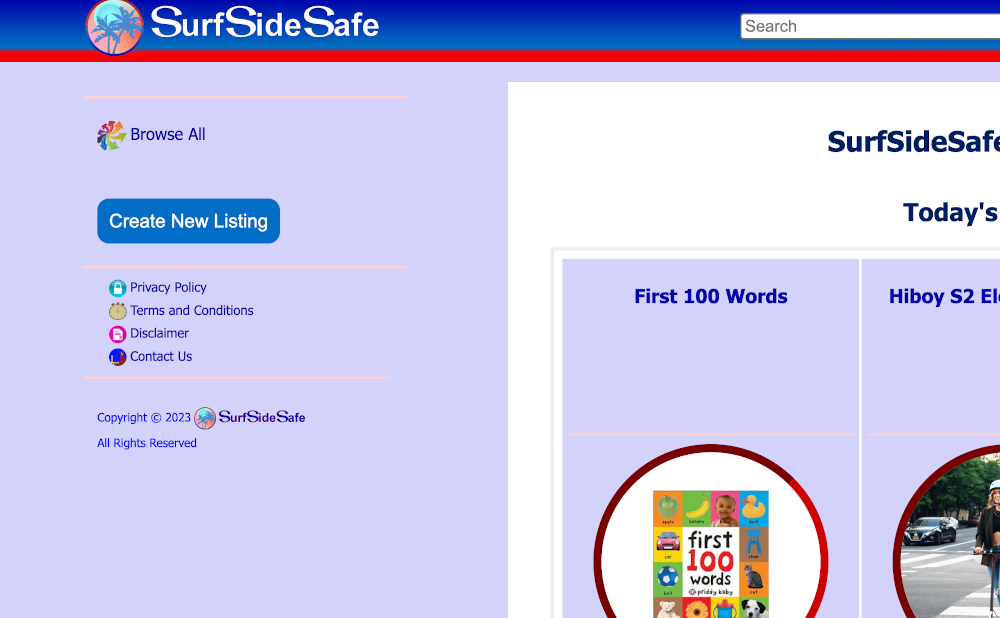 First, you need to click on Create new listing, from any page in our Marketplace section. Then, you will see this page:
Affiliate products are sold from a website, so you naturally want to click on Yes.
After you click on Yes, the correct form will appear. Here is the form you will see.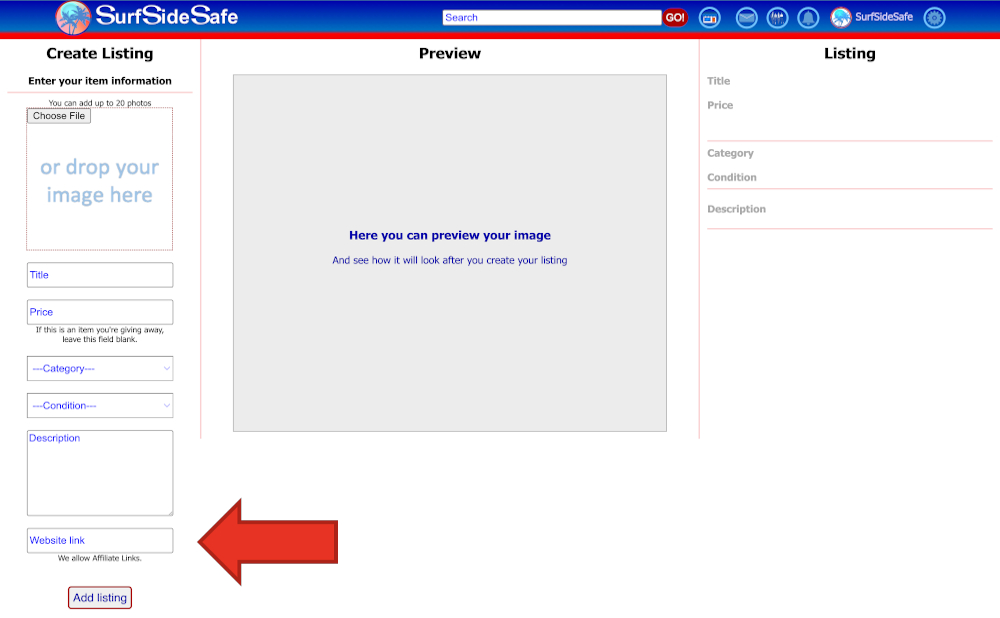 As you choose the image files, they will immediately be displayed in the middle column. As you enter the remaining data, each item will be displayed in the right column.
Finally, when you enter that all important affiliate link, and click on Add Listing, you will see the individual listing for the product, which every product listing has. It will look something like this: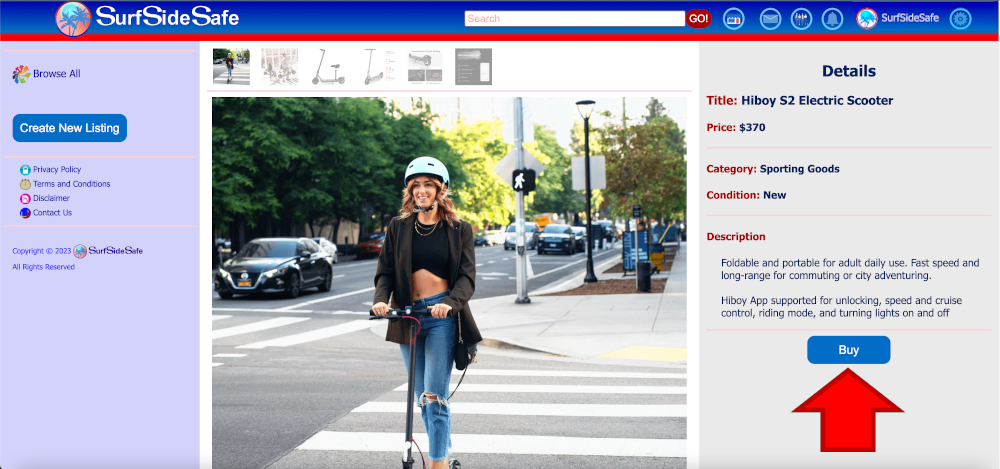 That's all there is to it! Now when people (and hopefully, many people) click on Buy, they are taken to the page where the product can be purchased. That is the link you entered in the form.
When they buy the product, the merchant ships it, and the Affiliate Program pays you a commission for each sale.
You don't have to do anything but sell the product, or better, products.
While you're waiting for people to buy, you should be entering more products for sale.
By the way, if my memory serves me correctly, the merchant who sells the scooter in the above image pays 6 percent for each sale. This means, you will make around $22 for each sale. $22 might not sound exciting, but it all adds up, believe me.
---
On Your Page
---
Now this is really going to get exciting.
We allow our users to create a page for business, or for any project or mission they might have. As a registered user of SurfSideSafe, you can create as many pages as you want.
You may want to watch the short video on creating a page. It would be very helpful.
There are two types of pages: Membership, and Non-Membership. For Affiliate Marketing on SurfSideSafe, you need a Non-Membership page.
A non-membership page is one in which only the user who created the page, or a page administrator, can post content to it.
Here's how simple this is. Our old friend, John Doe, just created a new page. So far, he has only posted one photo.
Notice that the photo post has no link. Now, let's create another post with an Affiliate Link.
Simply click on Add a Photo, select your photo, and it will appear. Enter the description of the product, and this is what you will see: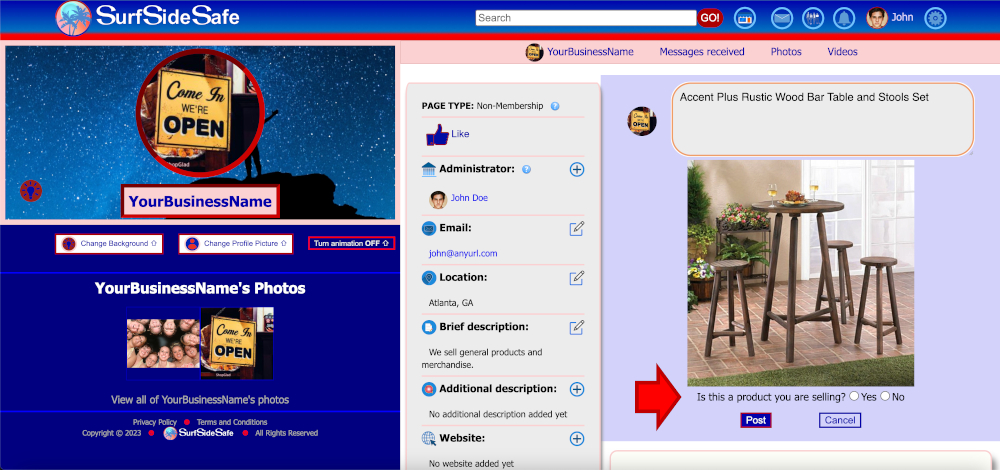 Notice the question next to the right arrow. John wants to sell this Wooden Bar Table and Stools Set, so he clicks on Yes.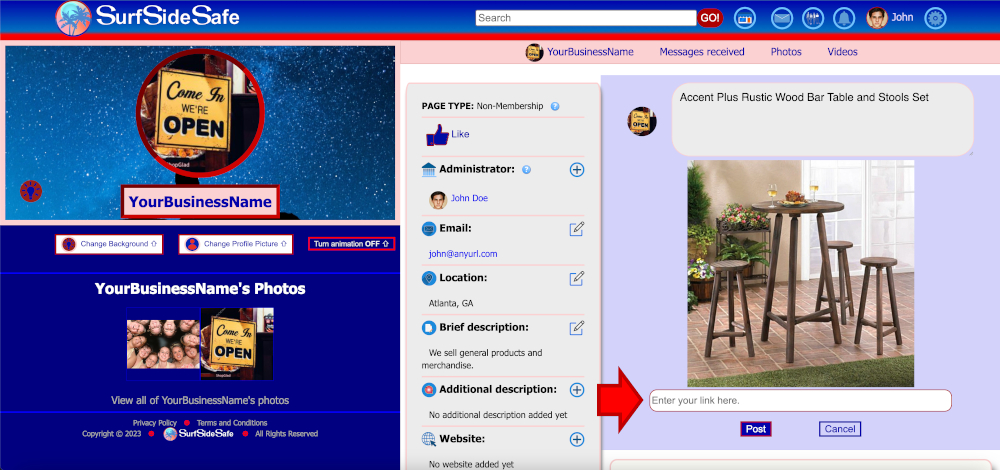 And look at what just happened. Now John can enter his Affiliate Link. After he does that, and clicks on Post, the product he is selling is now live, for everyone to see.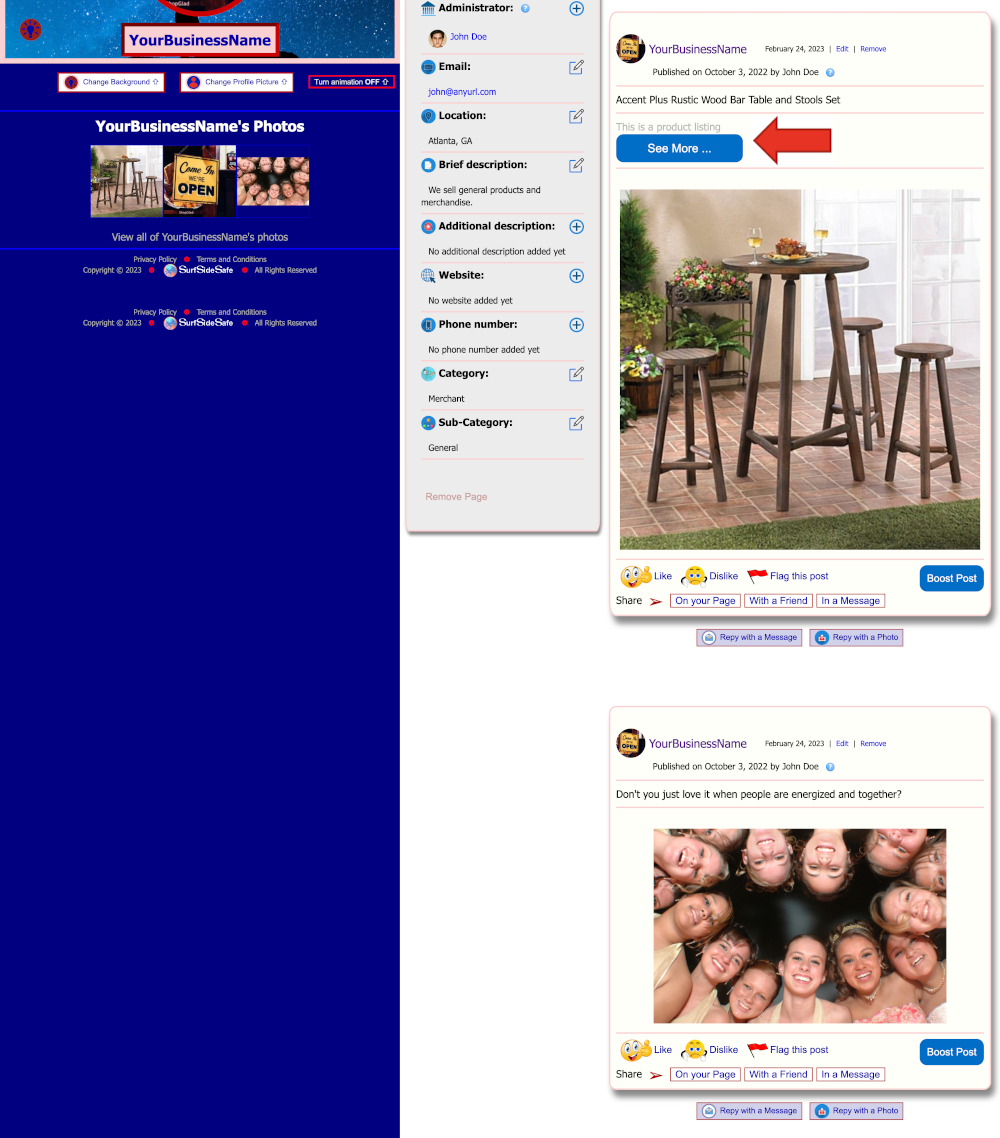 You will see that one photo post has the link, and the other does not. If John had clicked on No, the photo would have posted as a regular photo post, without the link.
Now I will show you what you can do with this post. Keep reading. This is about to get more exciting.
How to Get Your Affiliate Links Seen by People
Every time products are listed in the SurfSideSafe Marketplace, all users will get a Marketplace notification. The more users we have, the more people will see your links. Getting your Marketplace listings seen is automatically built in to our system.
But how are you going to get your Affiliate Links from your page seen by people?
Actually, this is very easy.
Here is the post for the Wooden Bar Table and Stools Set that John created. Now, let's put this in a place where all users of SurfSideSafe will see it.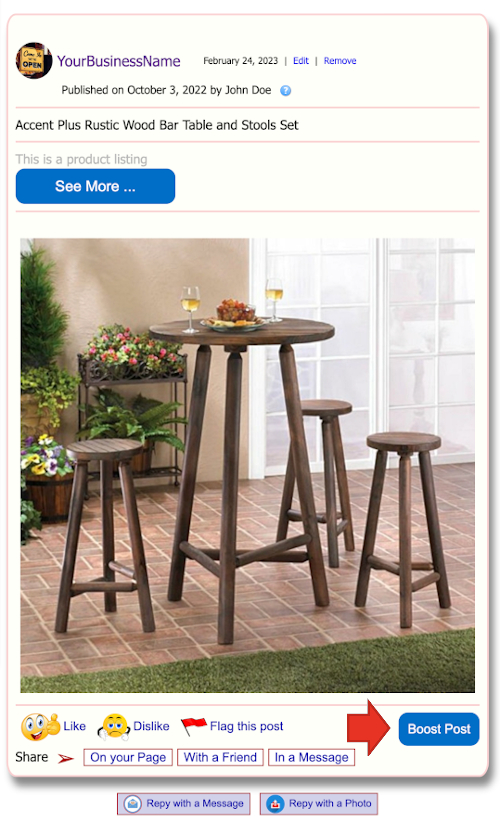 All page posts in SurfSideSafe have a Boost Post button. When clicked, the post is automatically shown on the home page, for all users to see. I mean, all users, and not just friends.
We allow a user who has created a page to boost up to three posts, per page. We do not charge for this. It's one of the most amazing benefits we have here at SurfSideSafe.
If you have boosted three posts, and want to boost another, all you need to do is "un-boost" one, and you can boost another. Sometimes, the life of a boosted post can get worn out.
But on a positive note, if you have one boosted post on the front page, and someone likes a product you are selling, most likely this person will visit your page, and see other products you are selling.
This is a WIN .. WIN .. situation.
All you have to do is click on the Boost Post button, and look what happens: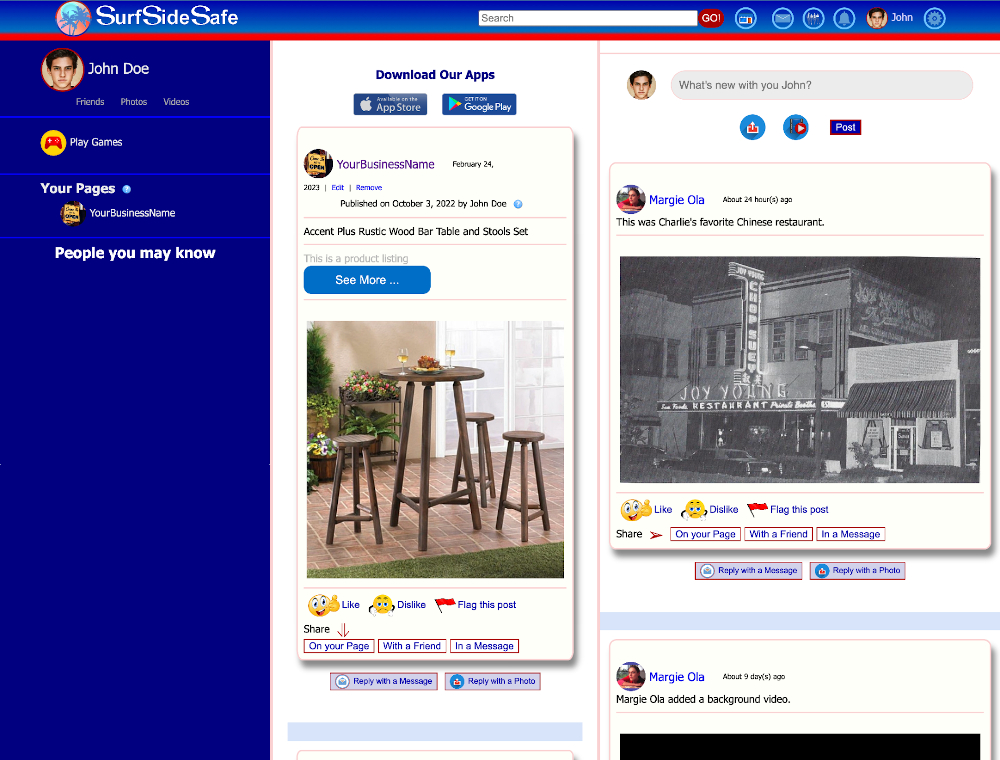 Just like that, your post, and your Affiliate Link are on the home page, for everyone to see.
As we get more and more users who have signed up for an account here at SurfSideSafe, we will increase the number of posts a user can boost. After all, it's our way of providing you with the very best Social Media platform possible.
Finally, every page created here is submitted to Google. All pages can be view, even when the person viewing is not logged in to SurfSideSafe. There is the very strong possibility that your page will get some search engine traffic.
This opens up the possibility of getting sales from anyone, and not just users of SurfSideSafe. How much more amazing can this be?
As you can see below, Affiliate sales have been growing, non-stop, for the last 14 years. And it's only going to get better.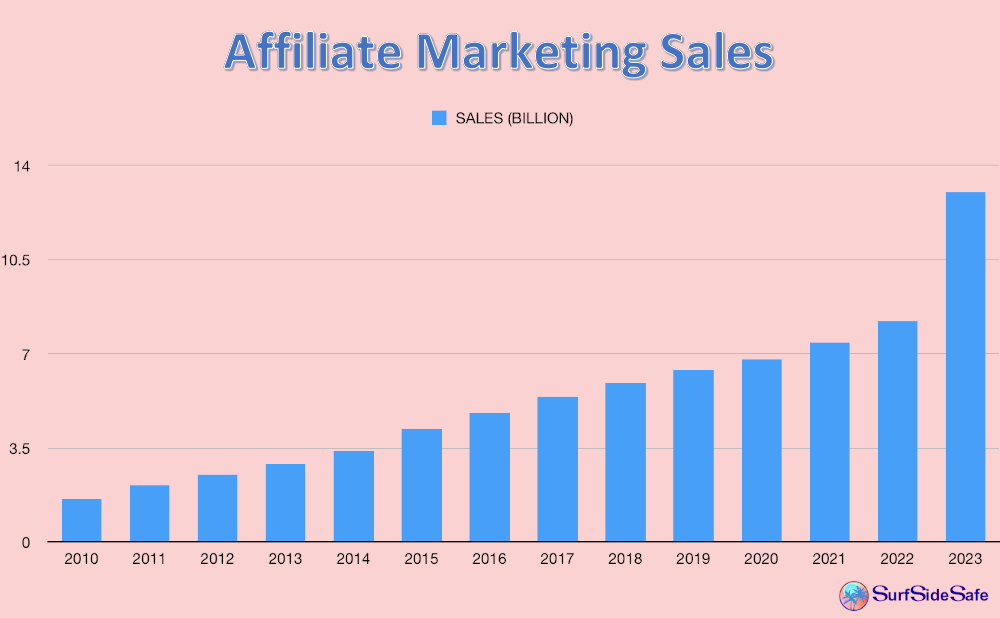 Conclusion
We have provided you one of the very best platforms to become a successful Affiliate Marketer. We have also shown you how very easy it is.
Most likely, you will not find this opportunity on any other Social Media platform. That's unfortunate, because it is one of the most respected businesses. We want you to have this opportunity.
According to a survey conducted by Influencer Marketing Hub, the Affiliate Marketing Industry is set to grow to approximately $15.7 Billion by 2024.
While incomes of Affiliate Marketers range from $10,000 to $150,000 a year, there are some seven figure earners doing it.
Sign up for SurfSideSafe today, and start doing this right away. Don't leave any money on the table.
Remember! At SurfSideSafe, we are here to make your life much better.
---
See our Disclaimer.