Social media is one of the best things invented. According to a recent survey, the biggest reason people use social media is to keep in touch with their friends and family.
Unfortunately, it can also be a snake pit loaded with vultures ready to take everything you have. It is very important that you protect yourself, and keep your personal information secure.
In this post, I'm going to show you nine easy ways you can do that.
---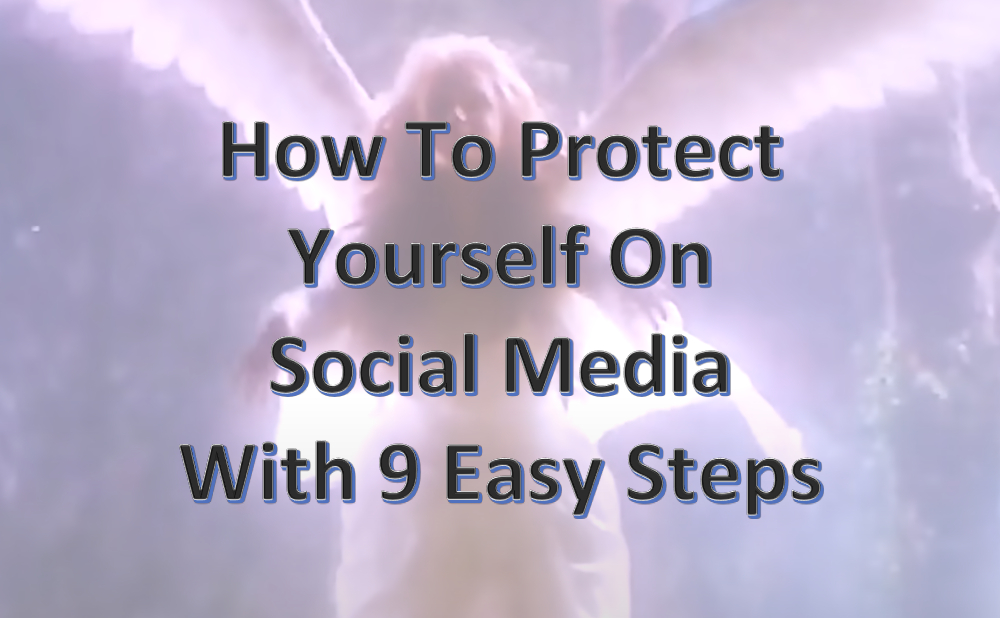 ---
Don't Share Too Much Personal Information.
People who share online appear to be living the perfect life. This is because they are only sharing what is relevant at the moment.
If you were to meet some of the people whose posts you read, they would be very different. You probably wouldn't know them.
Be cautious about what you post. If you want to make a point, such as, "...how you made the most delicious cookies", say it, and move on. Don't mention anything about getting into an argument with your brother for eating them all. That's your business and no one else's.
Remember, anything you post online is public information. Post what is relevant for you at the moment because tomorrow, it will be forgotten.
Never post anything that will leave you open. These vultures I mentioned will exploit you every way they can. Just a few will. But if only one person does it, that's one too many.
Many people in the media have implied that whatever you post on the internet is there forever. While this may be true about some websites, it is not true here. On SurfSideSafe, once a user removes a post, it is removed from our database, and gone forever. For this reason, you have some leverage in deciding what and what not to post.
The best way to do it is, post right the first time.
Be Suspicious of Unwanted Messages and Links.
There are a lot of scammers out there. Unfortunately, websites that allow users to post content have become a scammer's paradise. All of the safety features in the world can't prevent this from happening.
BUT, YOU CAN!
Knowing about this in advance puts you way ahead of the game.
Be alert for suspicious messages with links. This is a scammer's way of trying to sell you something that is too good to be true, or more tragically, doesn't even exist.
If a link looks suspicious, don't click on it. It may contain malware that can infect your device or steal your personal information.
Usually, the scammer will send you a message from a fake account that was duplicated from one of your friends. This is their way of tricking users into believing that the message is legitimate. This is exactly why we have zero tolerance for duplicate accounts.
If this happens to you, contact us immediately.
---
If we have to, we will investigate it, track down the user who did this to you, remove the account, and report this user to the authorities. Scamming is a Federal crime. We do not want any criminal activity on SurfSideSafe.
---
You can prevent this from happening. Just ignore it and delete the message, and you will be safe.
Be Aware of What You Post and Who Can See It.
We created SurfSideSafe to be a happy place. It is a place where we want people to feel relaxed, have a good time, and enjoy connecting with people.
---
Actually, we created SurfSideSafe to get Social Media back to the way it used to be -- a place to be happy, carefree and content. Unfortunately, many people have exploited it and made it very dirty. We are determined to clean it up and bring it back to its golden days.
---
What you post is up to you. However, this is not a place for people to air out their dirty laundry. This is not a good thing to do, because it will cause other people to avoid you. And that's not what you want.
Post what you want. Use some good judgment. Try to be cheerful.
Don't post anything that will put you at risk. You're here to renew and make new friendships. Talk about interesting things that you wouldn't mind anyone knowing about. A lot of people will see what you post.
Don't get too personal. If you want to talk about personal things with someone you know, that's what messaging is for.
How you engage with people is very important. Be kind, courteous, and sensitive to their needs, as well as your own. You and your friends online will be much happier.
Keep Your Profile Information Private
The "about" section in your profile information is the most accessible way for other people to learn more about you.
This is where you can post personal information about yourself, if you want. This is strictly optional.
We highly recommend that you don't post to this section unless you feel 100 percent comfortable in doing so. If you decide to share here, and have second thoughts, you can always remove what you post. When removed, it is gone forever.
Avoid Disclosing Sensitive, Personal Information
Never share passwords, credit card numbers or bank information. That's just plain common sense. Don't share your home address or phone number online.
We don't even recommend sharing your email, unless you do so by private messaging, and it is someone you know and completely trust.
Don't post details of your current whereabouts in real-time and don't post photos that reveal where you work or live. There are stalkers out there, both online and offline. You never want to give these people any ammunition.
Take advantage of the Block Feature
Blocking users can help protect you from online threats, cyberbullying and harassment.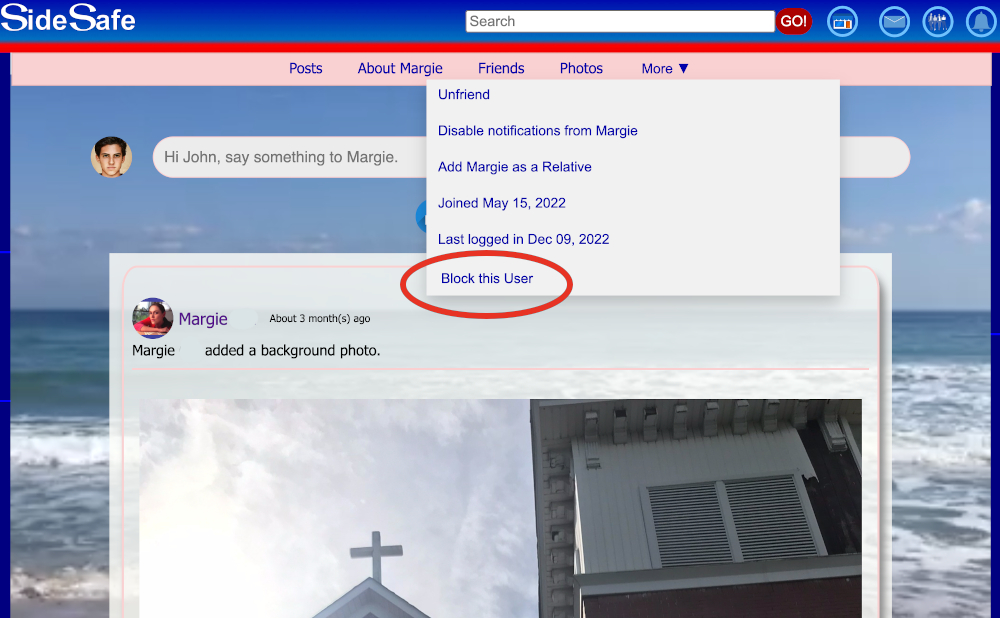 Before you can block someone, consider why you want to do this. Be confident in your decision before attempting to block them.
Blocking someone will prevent them from seeing anything about you. It's as if that person no longer exists on the platform for you, and you for that person.
If you accidentally block someone, you can always unblock this person. However, if this person was a friend, you will no longer be friends unless one of you sends another friend request.
Take advantage of the Flag Feature
Sometimes, people post content that is offensive to you. If this happens, you have the right to "flag" the post. Once you do this, you will never see it again.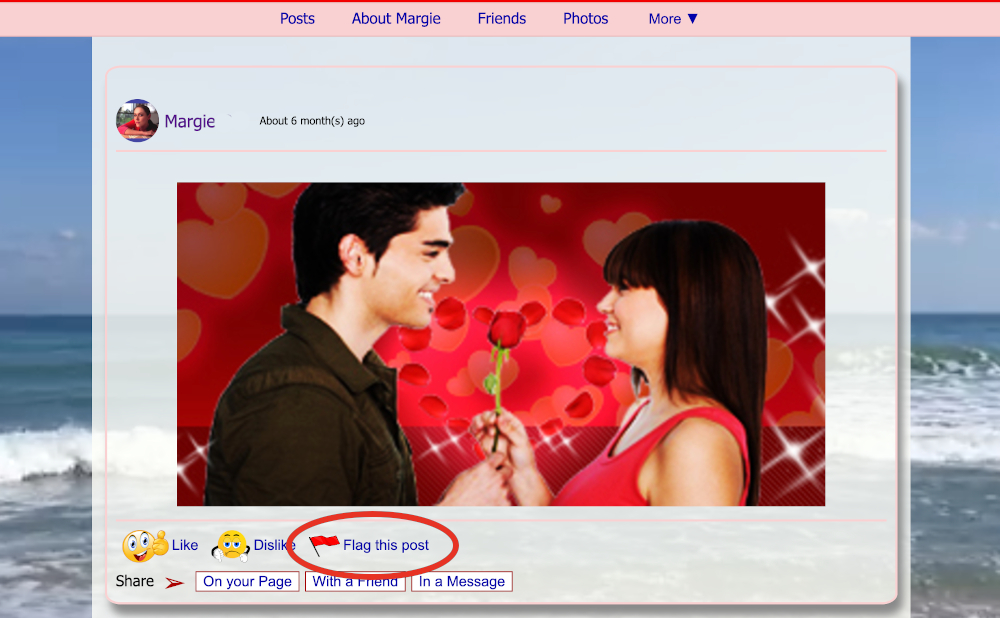 In all fairness, what is offensive to one person may not necessarily be offensive to other people. Here's an example. Suppose you don't like liver and onions. The thought of it makes you sick. Someone posts something about it, or a recipe, and it bothers you. All you have to do is flag this post, and you will not see it again. However, the other users who are friends of the person who posted this will still see it.
Our administrators have to decide whether or not such a post is offensive to everyone. In this case, the post probably would not be removed.
Finally, it is our policy to remove any post that has been flagged a second time. If the post is offensive to more than one person, it should be removed.
Take Note When You See Another Profile Like Yours
Something that has given Social Media a bad name is when a user duplicates another user's profile.
Someone takes your name, copies your profile picture, and creates a new account that is identical to your account.
This is something that will not be tolerated, and we take this very seriously.
If you see that your profile has been duplicated, please contact us immediately.
---
Sometimes, there may be a situation when a user wants to create another account. We have no problem with this. However, if this happens with you, please contact us and let us know, so we won't remove it.
---
Our administrator will probably catch it before you know about it. If this profile was created by someone other than whose name is on it, the more recent profile will be removed immediately.
Report Harassment to Us Immediately
Follow the previous eight steps to protect yourself, and you will be safe. You won't need to do anything else.
If you feel like your account is not secure, and you have tried everything to correct the situation, please contact us
Remember! Here at SurfSideSafe, your safety and privacy are our biggest concerns. We are here to make your life much better.