When planning a dinner for a camping trip with a large group, it is best to choose meals that can be prepared in cast iron cookware, such as, a Dutch oven. This does not require precise heat control.
Avoid dishes that require boiling a lot of water. The best choices are recipes that are easy to cook over a campfire and can be enjoyed by everyone in the group.
---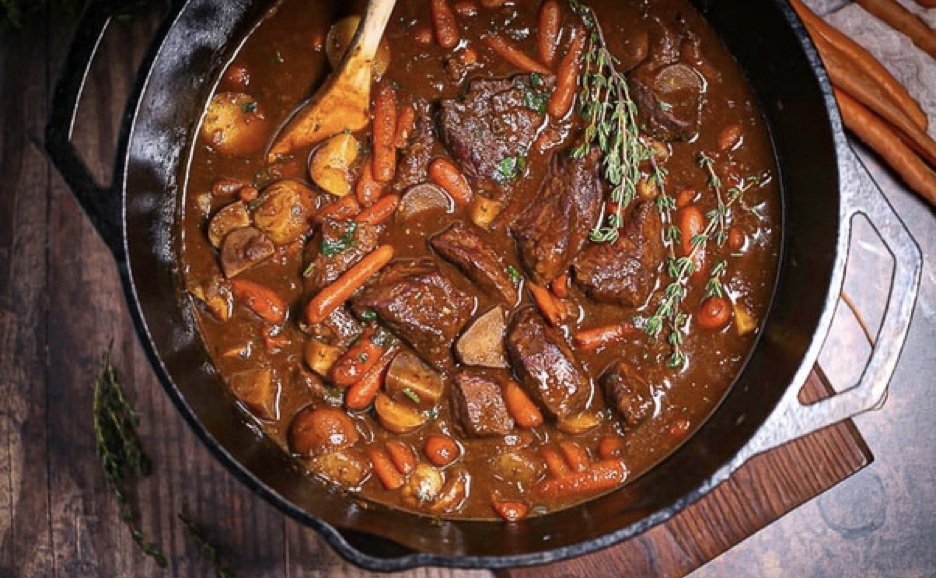 ---
Everyone's favorite camp site dish
For the perfect dinner during a camping trip, a beef stew is the number one choice. This is the type of dish that everyone associates with camping, and the rugged outdoors. It's very easy to make.
Start by seasoning and browning chunks of meat, then add flour to thicken the stew.
Add onions and garlic to bring out the flavor. Then, add wine or other liquid to make a sauce that blends in all of the juices.
Add potatoes and carrots to complete the dish.
Season it the way you like. Here, you can give your delicious beef stew your own twist. This is your beef stew. Season it the way you think it will taste the best.
Finally, cover your Dutch oven with coals and let it cook for a couple of hours while you prepare the rest of your campsite.
Other excellent dishes you can make on a camping trip are:
Beans and rice
Campfire nachos
Dutch oven mac & cheese
Chili
Grilled hamburgers or hot dogs
Grilled steaks and baked potato
You can also bake corn bread over the campfire in a cast iron skillet.
But the easiest, and most popular dish to make is, by far, beef stew.
Conclusion
Roughing it can be a lot of fun. But while doing this, you still want to enjoy some good food.
I hope this article has helped you.
Thank you for visiting us. Please visit us again. You are always welcome.
AND:
Remember! At SurfSideSafe, we are here to make your life much better.